As a facial plastic surgeon, I'm seeing an increasing number of patients contemplating having facial rejuvenation procedures as of 2021. It is hard to know precisely why we are seeing this trend.
My patients have suggested two reasons:
Working from home: Working from home allows them to take less time off from work, letting them be productive but still be at home recovering. After a certain amount of time following surgery, it may not be possible to drive to work, but work-related duties can be accomplished at home while recuperating.
The Zoom boom: Alternatively, the rapid increase in the number of video-oriented meetings has put our image front and center for each of us every day. It is like staring into the mirror nonstop. With that, it is not hard to be our own worst critic. Pre-pandemic, I looked into the mirror every morning to brush my hair and that was it. Nowadays, I find myself staring at my monitor for hours on end, daily, and not necessarily believing that the image staring back at me is in fact me. (You can learn more about what I've noticed in this blog post.) We've become more aware of our own aging.
For those considering facial cosmetic surgery, I thought it might be helpful to outline what is involved in recovery and when one might expect to be presentable. This post is your guide to what to expect during facial plastic surgery recovery.
What to Expect During Eyelid Surgery Recovery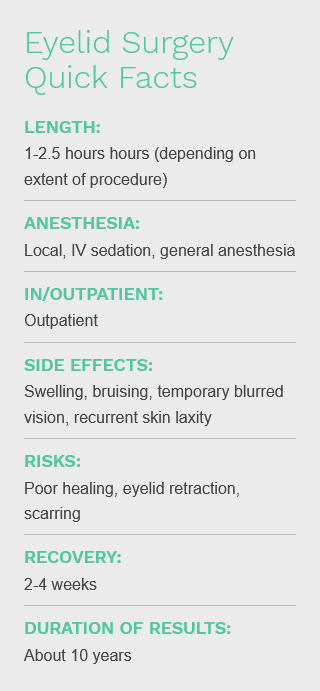 Like anything, each patient's response to surgery is very individualized. Eyelid surgery (called blepharoplasty) is no different. This area tends to bruise and swell more than other areas of the face and must be considered when trying to determine when is best to move forward with the procedure. In some cases, a patient may opt for either a lower eyelid or more commonly an upper eyelid procedure by itself, as opposed to having both done at the same time. This simplifies things a bit.
Upper Eyelid Surgery Recovery
Here's a quick look at your day-by-day upper blepharoplasty timeline:
Days 1 & 2: This procedure is often done in the office under a local anesthetic, taking us about 45 minutes to perform. Afterward, patients experience only mild pain, but can anticipate some moderate swelling and even bruising. Ice really helps with this process and we try to encourage our patients to use it for 10 minutes every hour while awake for the first 2 days. Keeping one's head elevated and avoiding salty foods helps with this.
Day 10: Once the sutures are removed, some camouflage makeup can be used to conceal any bruising that may persist. Bruising is not universal but should be expected to some degree in most patients. I believe most patients can be presentable in the first 10 days with a bit of makeup, despite still having some degree of swelling.
Week 2: Most of the swelling is improved within 2 weeks, but it can take 2 months to completely resolve. Massage across the eyelid really helps this process. I allow patients to begin to get their heart rate up at around 2 weeks.


Lower Eyelid Surgery Recovery
The lower eyelid necessitates a lengthier recovery because the swelling experienced and the need to tighten and support it during the healing process. While the degree of swelling is comparable to what was described above for the upper eyelid, it is a longer process, and it may take 2 to 3 weeks to be presentable. I typically use dissolvable sutures for the lower eyelid. We begin lower eyelid exercises to help speed up the recovery at the end of week 1. Exercise can begin at the 2-week mark following surgery.
Upper & Lower Eyelid Surgery Recovery
When these two procedures are performed together, the lower eyelid is typically the rate-limiting factor in resuming normal, public activities and may take up to 3 weeks.




---
What to Expect During Facelift & Neck Lift Recovery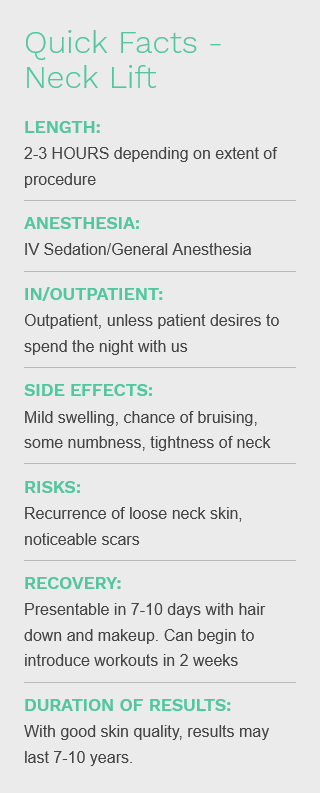 Facial surgery includes the following procedures:
Each procedure carries with it different goals and associated recovery. Fortunately, none of the facial procedures above carries with it much pain or discomfort.
Neck Lift Recovery
A typical neck lift recovery timeline looks something like this:
Week 1: An isolated neck lift involves incisions behind the ears and underneath the chin. Following this outpatient surgical procedure, I send patients home in a supportive chin strap that I ask them to wear continuously except for showering, for the first 7 to 10 days.
Week 2: During the second week I allow them to take the strap off when leaving the house. Activity resumes at 2 weeks following the procedure. These patients do not have much in the way of swelling. If the patients have longer hair around their ears, many are presentable by the end of the first week.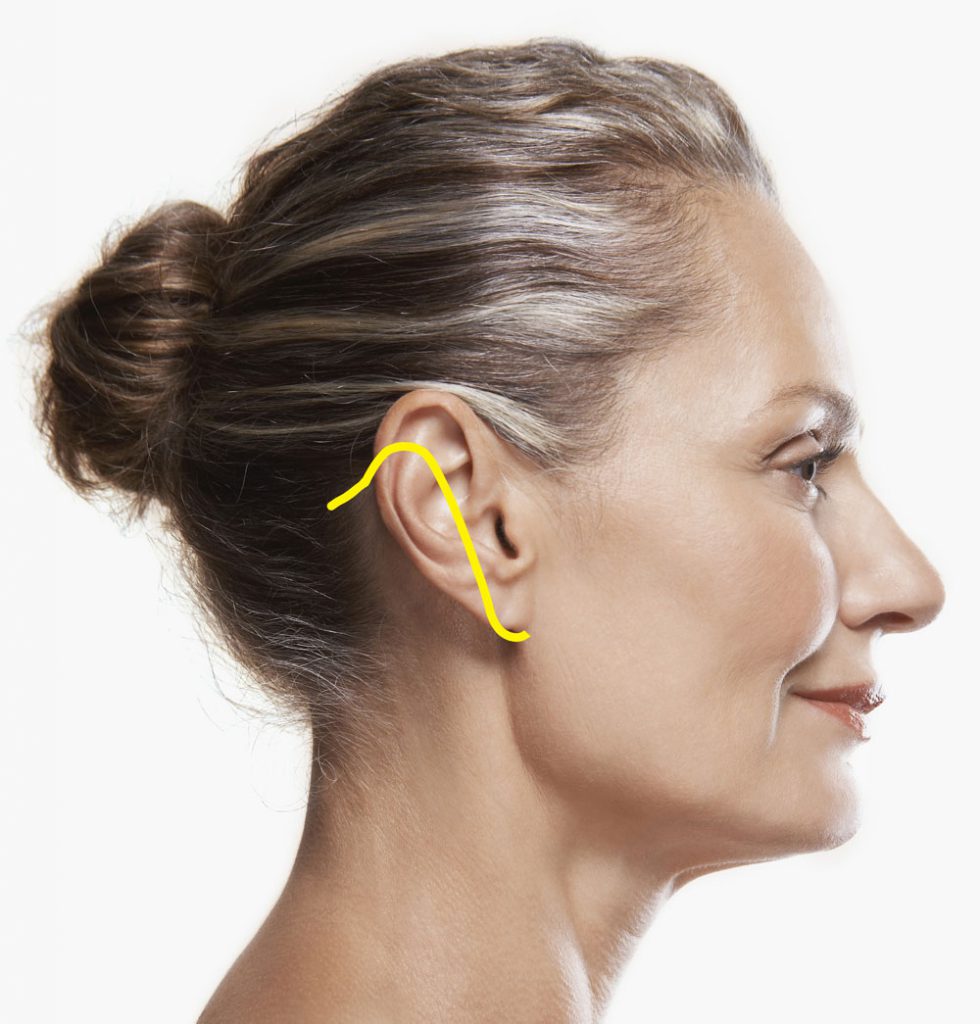 Lower Facelift Recovery
A lower facelift addresses the jawline and neck area and is accomplished through incisions behind the ear, with a variable extension in front of the ear depending upon how much loose skin the patient has. Recovery is comparable to that described above for a neck lift.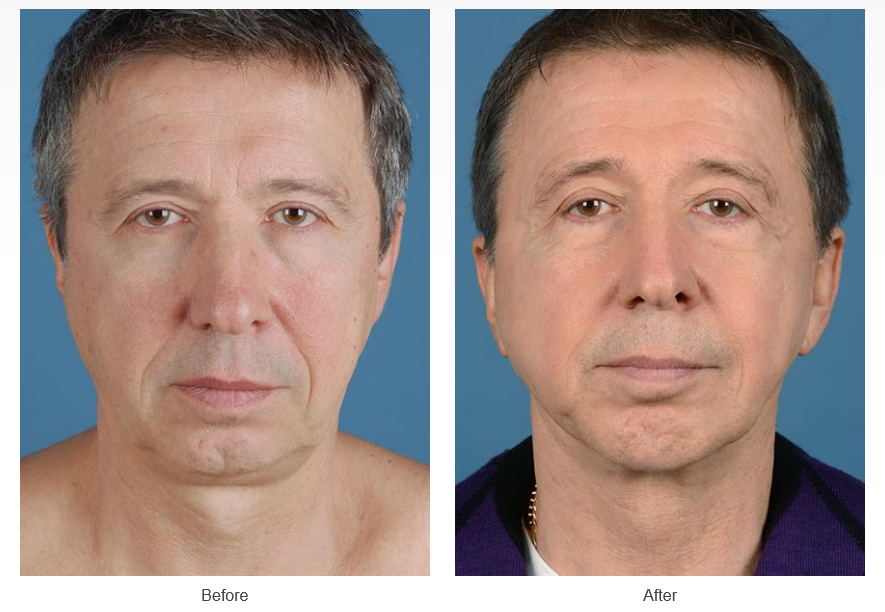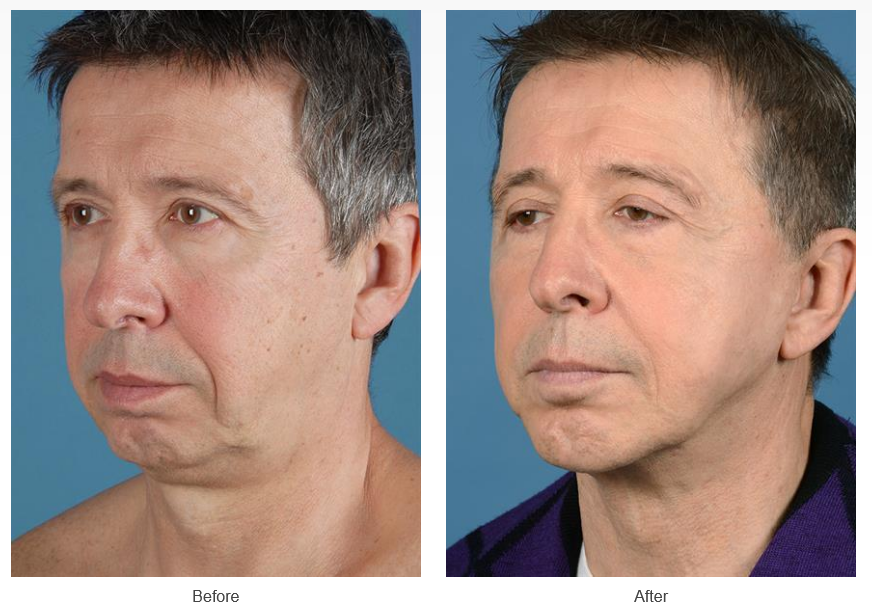 Facelift Recovery
A facelift is a procedure that addresses the neck, jawline, and central face, including the cheek pads and laugh lines around the mouth. It requires an incision that starts at the top of the ear in the hair and follows the contours of the ear along the back of the ear into the hairline. An incision under the chin is also used to tighten the neck similar to what was described above.
A facelift is a more involved procedure. I have the patients spend the night in our extended care unit to monitor their blood pressure and ensure that they are comfortable. I place the patient in a head dressing similar to a football helmet overnight which applies compression to the area. I remove that the following morning and place them in a chin strap (described above).
As with the other procedures, there fortunately is not a great deal of pain or discomfort. Patients do develop some swelling in their cheeks from the surgery that while not excessive, may be noticeable in the first 7 to 10 days. This gradually improves with time but may take up to 6 weeks to completely resolve.
As mentioned above, salt intake can dramatically impact the swelling patients experience following any procedure. This may take three months or longer to improve.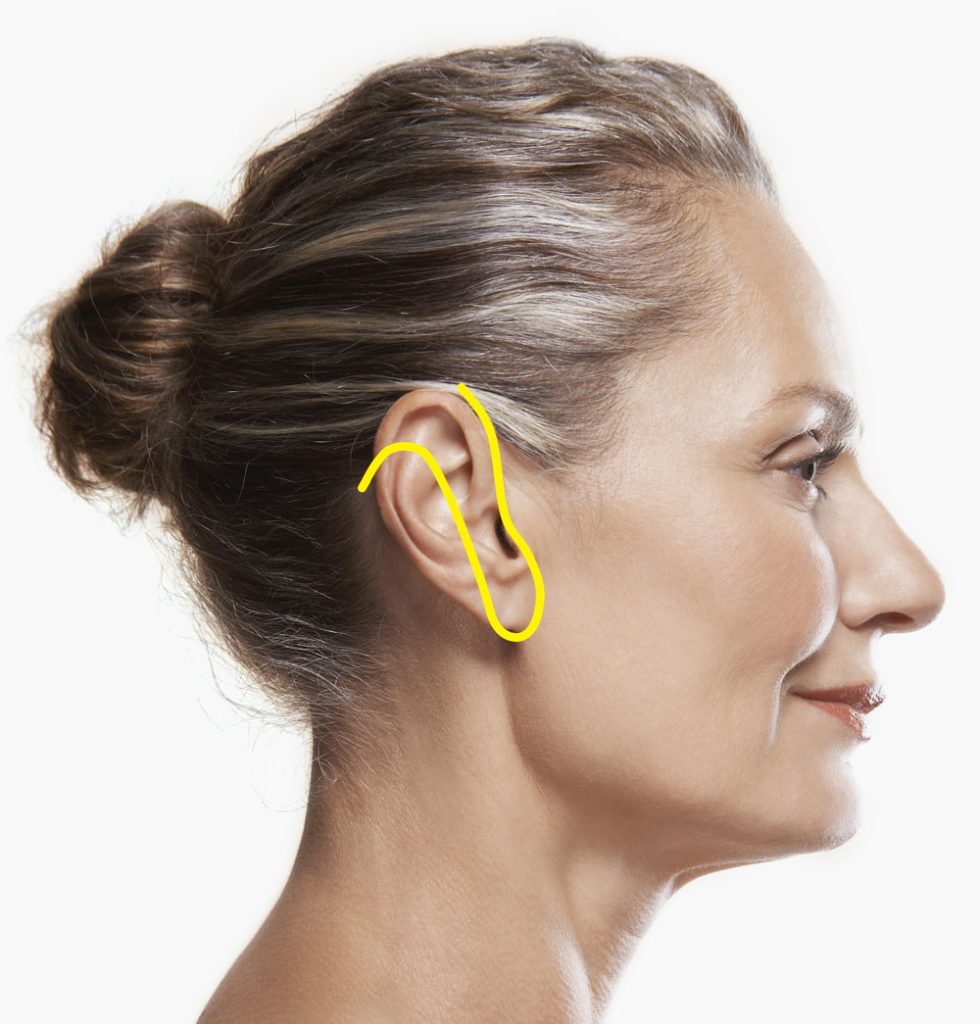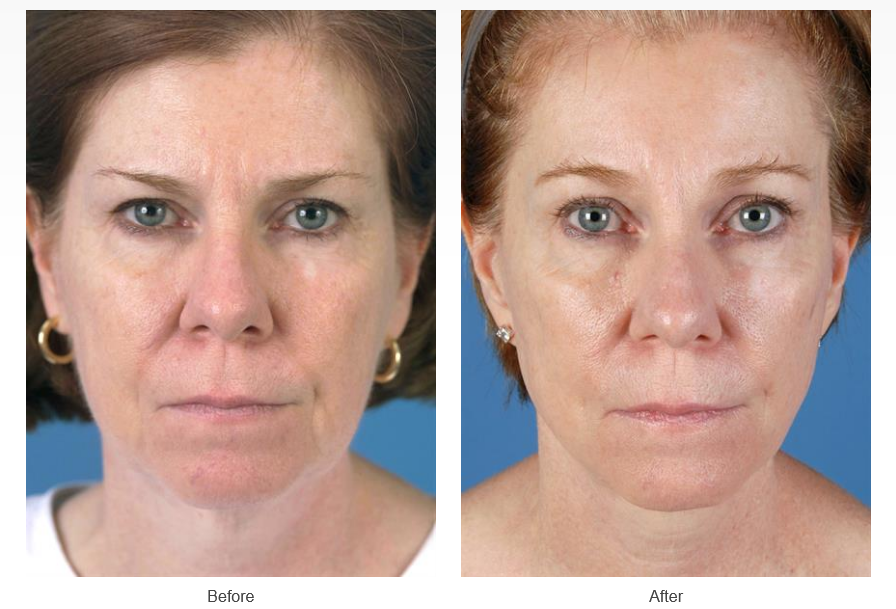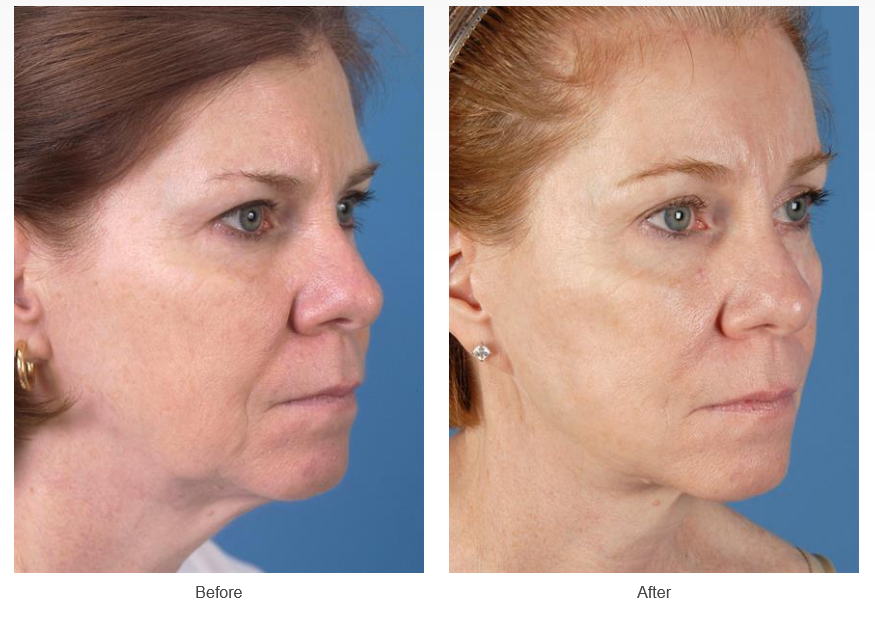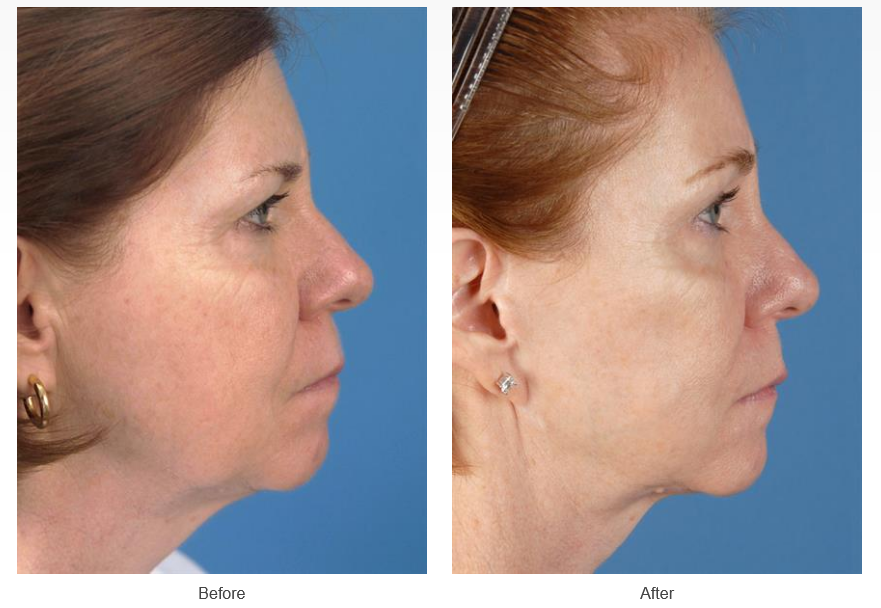 ---
Ultrasound Treatments
As part of the recovery process we may have our patients undergo a few ultrasound treatments to help facilitate the resolution of the swelling in certain areas. This painless procedure is performed by our nurses. It is therapeutic and feels good to our patients. These are performed once or twice a week for a few weeks, as necessary.
---
The Bottom Line
Facial surgery can be intimidating for our patients. Fortunately, they do not result in much discomfort for most patients. Depending on the procedure, recovery (being presentable) may take up to a couple of weeks. We try to set proper expectations for our patients for not only outcomes but also for anticipated recovery and downtime. Many of our patients are back to working from home after the first week, often with their cameras off for another week or two, but are functional and able to participate in the daily activities of work.
If you have additional questions about recovering after facial plastic surgery, please get in touch by requesting a consultation or calling my Dallas office (214) 645-3112. I'm happy to answer any questions you may have as you explore your facial rejuvenation options.